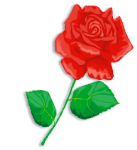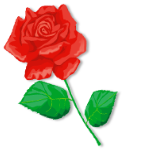 Bremervale Pharoah (P) (The Lakes Gibraltar X Rosevale Rowena U10) was purchased from the Bremervale Stud at Agshow Sale 2008 . He is a well muscled poll bull with excellent breed character and quiet temperament with excellent bloodlines and strong Breedplan figures. Pharoah was shown successfully which included being judged Junior and Grand Champion bull at Boonah Show. His Dam Rosevale Rowena U10 has had eight calves in nine years. Pharoah's calves are predominantly poll, very well muscled, quiet natured & dark red in colour.

Greenup Beaumon Y132(P) 15.11.2002 and sound he is a highly fertile, quiet natured, poll bull with a long frame that is heavily muscled, he has a very tidy sheath and consistently produces well-muscled, early maturing bulls that have great growth for age and plenty of fertility. Produces quality soft quiet natured heifers that are great mothers.



Rosevale Park Marshall B12 by Diamond H Marshall E163 photographed here as a young bull at Warwick Santa Gertrudis Junior Camp. – he has been retained for use in the stud. He is very correct and well muscled young sire and his calves are very nice types, very correct and well muscled, quiet natured and dark red in colour. Now that B12 is a mature bull he has a good combination of bone and even muscling and maintains his condition year round. Several bulls have been sold by him and we have had very positive feedback from their new owners.
Ross Guthrie – Injune – Purchased Rosevale Park Statesman F30 at Agshow 2011 " We should buy more bulls from you they are quiet to handle and do well in the paddock, the calves are also very quiet and easy to handle and most notably is their doing ability."

Rosevale Park Marshall F10 – (Diamond H Marshall E163 X Rosevale Heidi X503) Multi Champion and Grand Champion Santa Gertrudis Bull over 3 show seasons – a very correct extremely quiet good natured bull with even muscling. His first calves are on the ground.
Rosevale Park Santa Gertrudis Sires
Back

Rosevale Park Oyster E12 (Wyangarie Oyster X Rosevale Jade Y225) Replaces his sire Wyangarie Oyster who did 9 seasons with stud and commercial cows with herds up to 80 cows. A very fertile bull. His Dam Jade a successful show cow for Rosevale Stud Jandowae prior to being sold to us. Oyster E12 has been a successful show bull with an excellent temperament, he has an exceptionally fine tropical coat and very neat clean tidy sheath. He is well muscled young sire and his first calves are on the ground and looking good. These qualities he is passing on to his calves and there are some lovely heifers and some bulls that will be in our show team prior to being offered for sale in the future.
Several brothers by Wyangarie Oyster are working in the Injune, Crows Nest and Southern Downs areas and so far we have had positive feedback on how they are doing and the quality of the progeny they are producing.
Leon Perrett – Injune – Purchased Rosevale Park Oyster E20 – Agshow 2010 – " A quiet natured bull with a very clean and tidy sheath which is essential in this country, a bull that has adapted well to the environment here on Tunis – has produced calves longer than some bulls we have purchased"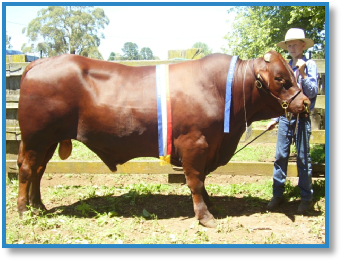 Rosevale Park Big Banana H24 is the A I son of Watasanta Big Banana who in 2008 was awarded Grand Champion Bull at Brisbane Royal Show, 1st Place at Sydney Royal Show and was Junior, Grand Champion and Supreme Santa Gertrudis Exhibit at Tamworth Show. Watasanta Big Banana was Lot 8 at The 2nd Annual Invitational Bull Sale 2010 at Watasanta Tamworth, the 4 year old sire weighed 1202kg with an EMA of 138 cm and Fat scores of 19/12 mm.
Watasanta Big Banana sold for $25,000 to the Glen Leigh Stud.
Dam Rosevale Ivy X41 is in calf with her 10th Calf, her last calf an AI heifer by Dundee Ulysses. She is currently PTIC to Greenup Beaumon Y132.
Rosevale Park Big Banana H24 will be joined to cows in the spring so we look forward to his first calves in 2014.

Rosevale Park Beaumon J8 (P) (Greenup Beaumon Y132 x Rosevale Palace Y21).
Shown at National Santa Gertrudis Junior Show 2014 & 2015 & winner of his class. A quiet natured dark red bull with fine coat clean sheath and natural poll. His first calves are on the ground and he has put his stamp on them.
Greenup Beaumon Y132 – 15.11.2002 - 100% sound a truly remarkable sire.
Rosevale Palace Y21 – 16.8.2002 – just weaned a bull calf by Greenup Beaumon Y132 & is PTIC to Bremerale Pharoah

Rosevale Park Pharoah H4 (Bremervale Pharoah X Rosevale Park Jessica E11) a successful show bull. Pictured here in his working clothes - he has been running with 100 cows as a single sire herd. We are impressed with his calves they are quiet and well muscled.
He has been moved into a stud herd.
Bremervale Pharaoh has produced several bulls, led steers, and steers that have won champion pen of steers at Warwick Santa Sale.
His dam is our very successful show cow Jessica E11 who has also bred several lovely daughters to date.